10/17/11 We met at Naked Tchopstix to discuss The Devil in the White City by Erik Larson.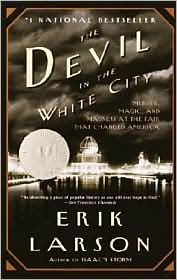 Those in attendance (in clock-wise-order):
Val
Steph
Linds
Cris
Erin
Jill
Melissa (and baby Parker in utero)
Those there in spirit:
Katie, Kitty, Kat (because her water main busted and I think she was at home fixing it by herself!?)
Jeni (not quite sure where our pixie was but we missed ya!)
Loran (and she even read the book!)
Alissa (we were so sad that we didn't get to meet baby Milan tonight!)
Order of Biz:
A Doggy Playdate is scheduled for Sunday, Nov. 13th @ 1:30pm @ The BBC Homebase aka Lindsay's House. (Did I mention that I am SOOO glad that some of you ladies are finally having children so that we can start some playdates other than these doggy style ones?) Huh?
Our next meeting is coming up in 3 short weeks. Stephanie has chosen Moloka'i by Alan Brennert. We will be meeting at Cancun. Check the fb page for more details. Get ready to get your Margarita on ladies!
Lindsay confessed to using "the Secret" to help sway the decision with her energy....and "It Worked!"
The Holiday Party is planned for Dec. 4th @ 4pm @ The BBC Headquarters, even though "if we do it on Saturday we can get drunk!" (says Erin or was it Cris? I think it was Erin!) Are we doing an Ugly Holiday Sweater Party Again? My vote is YES, please!
January's book selection by Cris and is Marjane Satrapi's Persepolis. This is a Graphic Novel. I must admit, when Cris first said Graphic Novel, I thought she was talking CSI Miami graphic.
I was wrong.
Enough with the news, on to the book.
The consensus was that we all liked it. We learned things we never knew about Chicago, architecture, serial killers, Juicy Fruit, Pabst Blue Ribbon beer (which Lindsay currently has a case of at her house), Shredded Wheat, Ferris Wheels, Irvington, The World's Fair, and Frank Lloyd Wright (he was fired).
Speaking of The World's Fair, here is a quick history lesson on this subject.
From 1840-1950 they ran about ever year. Sometimes there would be up to 4 in one year in different countries.

They slowed down after that, however they still exist.
We have decided that 2012 will be the year of the genre. Suggestions include but are not limited to:
1. Trashy Romance Novels (Val's top choice!)
4. Biography of someone kickass
5. Self Help (no chicken soup for the soul)